Painting Tips

: This database of genuinely useful tips is a new section which began in late 2008 & will be updated periodically.

It represents a fraction of the industry knowledge that Jeff Keller and the Paint Factory staff have absorbed over years of working in the paint industry & with professional contractors on projects ranging from huge & complicated to the small, yet still important.

If there is something you'd like information or feedback on, call Jeff or e-mail him at

jeff@montanapaintfactory.com
General | Architectural Paints & Stains | Industrial Paints & Coatings | Pictures are Worth a Thousand Words
General Painting Tip
Coordinating Colors..... "That color looked Awesome in the parade home we walked through. Why doesn't
it look that way in our home?" Click here for our informative pdf on how you can get the best paint results.

Comparing Paint Quality & Prices....Who in town has the best quality paint and prices.
You might be surprised! Click here to download our informative pdf on how to compare apples to apples
when buying paint.

Before any painting project begins, it is important to remember to purchase all necessary paints, stains & associated products from The Paint Factory. No, really.



Most large paint manufacturers make three levels of quality for their interior & exterior paints.

These levels of quality are referred to as "Good", "Better", and "Best".

When comparing one brand's quality & price to another brand, it's important to know that what is being compared is an accurate comparison (i.e. "better" vs. "better", etc.). "better" is sometimes also referred to as a manufacturers' "mid-line" or "professional best".




Surface preparation is as important (sometimes more important) as product selection.

Ideally, exterior painting is done during the summer months.

However, most high-quality acrylic latex paints made today can be applied when surface & air temperatures are above 35 degrees F before, during & after their application.

This doubles the length of time people have to get their project(s) done each year.

The thing to remember is that early-spring & mid-to-late fall, the over-night lows interfere with paint drying properly.

To prevent temperature & dew-related problems both early and late-season, only apply paints & stains for a few hours during the warm part of the day. This allows a few hours of decent weather to ensure adhesion and film formation before cold temperatures set in for the evening.
Tips for Architectural Paints & Stains
Because oil-based paints (alkyds) fade & chalk with exterior exposure, 100% acrylic latex paints & solid stains are typically preferred on exteriors because of their color & gloss retention as well as their flexibility.




Both interior and exterior handrails (metal & wood) perform/hold-up much better when an oil-based product is used.

Water-based latex paint products categorically do not hold up to people's hand oils over time and lead to premature failures.
Tips for Industrial Paints & Coatings
Two-component products do not like to be used/applied when the relative humidity is at-or-above 85% humidity (some as low as 80%).

It's important to be aware of weather conditions when using these products.

Excessive humidity can exist on a relatively nice day.

Inexpensive barometers can be purchased at hardware stores or splurge on an electronic one.

High humidity can prevent the necessary chemical "cross-linking" from happening when part A is added to part B. This is one of those that's easier to prevent than to fix.
Pictures are Worth a Thousand Words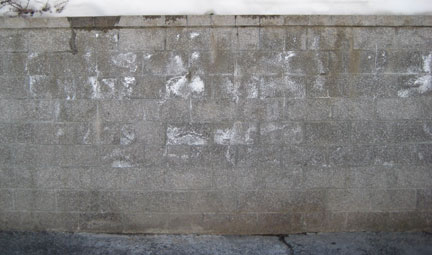 Efflorescence – This is something that can happen to masonry surfaces (usually exterior) that are left unsealed and exposed to moisture (water) over time.

When the unsealed masonry gets wet, the salts & lime contained in the masonry are drawn to the surface and lay on the surface in the form of a white "salty looking" stain.

The extent that the efflorescence has been allowed to build up determines how easy or difficult it will be to remove.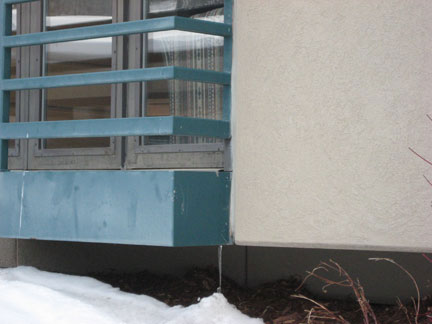 How alkyds (oil-based paints) chalk & fade – Categorically, alkyd products will chalk & fade with outside exposure.

On interior applications that are not subject to exposure, this does not happen.

However, alkyds used on interior or exterior work can "yellow" over time (slight yellowing is especially predicable when using white).

When potential "yellowing" is a concern, seek out "non-yellowing" alternatives such
as 100 % acrylics and urethane.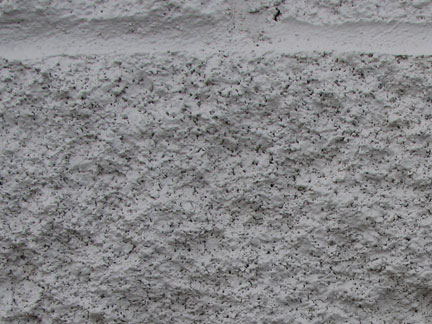 Pin-holing on cinderblock (CMU- Concrete Masonry Units) - This situation (problem) is caused by block filler primers
or elastomeric coatings being spray- applied but Not Back-Rolled to work the product into the substantial porosity that exists in all CMU applications.

This problem becomes
a big problem when wind-driven rain (water from any source) gets behind the dried paint film and causes extensive premature failures.
Back to Top