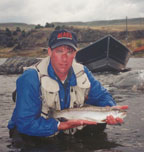 I moved to Bozeman in 1982 to attend MSU.

Like many, once I came here to go to school, I didnít want to leave.

When Iím able to get paint off my brain, I enjoy socializing with friends while snow skiing, mountain biking, hiking, fishing, hunting, camping, playing hockey, water skiing, climbing mountains, tying flies and maybe a beer or two.

Am I ever going to grow up?

I sure hope not.
BACK TO ABOUT US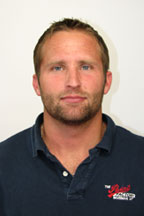 Being the fifth generation of his family to be born and raised in the Bozeman area, Jayson has developed a true love for the outdoors. Growing up in Bozeman, he was first introduced to the paint and coatings industry at the age of fifteen. While attending high school he began working for the Sherwin Williams Company, and would continue with his coating career for a few years after graduation. Moving to MN in 2002 for a change of pace, Jayson kept in contact with his Sherwin Williams co workers and friends and in 2003, he moved back to Bozeman after being offered a job to help start The Paint Factory. Jayson is now the vice president of The Paint Factory, and is accompanied to work daily by his black lab Daisy (the shop dog, careful she will lick ya). Jayson has an in- depth knowledge of the paint business including but not limited to; industrial coatings, residential coatings, wood coatings, machine repair, as well as a great eye for color. BACK TO ABOUT US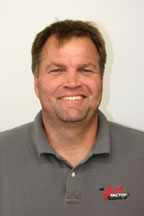 Jim has lived in the Gallatin Valley for over 25 years. After graduating from

Montana State University, Jim worked in the construction world, spending 15 years as a drywall hanger. Moving to The Paint Factory was a logical progression, and he now manages The Paint Factoryís Belgrade location.

As well as his ability to do custom color matches, good listening skills and patience make Jim a strong customer service asset. Jim enjoys the Montana outdoors and can often be found dirt biking, camping or horseback riding in the summer , hunting in the fall or skiing and playing hockey in the winter. He is also active in the community, attending Building Industry or Chamber of Commerce functions and charitable fundraiser. When Jim is not mixing paint or attending a community event he enjoys his two children, Max and Ash Lee. BACK TO ABOUT US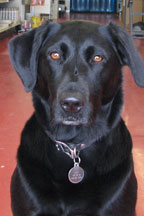 Daisy is overly friendly and enjoys all kinds of company.

She loves to camp, fetch, play, and most off all loves snowballs.

She has been a part of The Paint Factory since she was twelve weeks old.

You can find her in either store every day looking for someone to throw her tennis ball.

Stop by one of the shops and you will be greeted by her wagging tail (if sheís not sleeping).
BACK TO ABOUT US